English-Taught Programs
Because of its internationally-recognized achievements and established academic standing, Nagoya University is among the few universities selected by the Japanese government to offer international programs designed for international students. The objectives of these programs are to strengthen the international competitiveness of Japanese higher education and to offer a first-rate educational opportunity to high-achieving students worldwide.
Since 2011, Nagoya University's flagship departments started offering the "G30 International Programs" which are full-degree programs taught entirely in English. Through a multi-disciplinary general education curriculum, these programs aim to cultivate ethical leaders who are able to develop innovative solutions through inquiry and analysis, with strong communication skills to be productive members of our global society.
To check the programs we offer, please go to our
Undergraduate
and
Graduate
page.
The unique concept of "courageous intellectuals" stresses audacity, curiosity and creativity. "Courageous intellectuals" at NU are trained to responsibly dedicate themselves and exploit their academic freedom through their educational and research endeavors. In addition to their major, international students also take Japanese language classes to expand their career opportunities.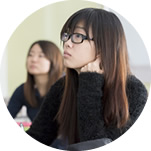 To Learn from the Best

Students learn from Nagoya University's most distinguished professors and world-class researchers. Faculty members at NU are all actively engaged in both research and teaching. Their expertise allows students in the classroom to connect with the most valuable and up-to-date findings in their field.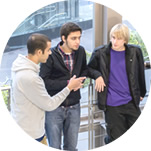 A Talent Hub with Diversity

In order to nurture future global leaders, the programs provide an international setting for culture and knowledge exchange by attracting high-caliber students from all over the world. Students benefit from studying in classrooms that resemble a global village while also discovering the unique culture of Japan. Joining an exchange program is another option to explore international diversity. With close to 300 international exchange agreements with other the universities, the gate is always open for NU students to head abroad.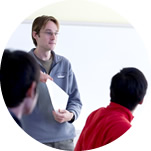 From an Individual to a Team

Programs are kept at a size that enhances team building among students and interactions with the teachers. Students follow a unique curriculum divided into diverse class formats. Lectures and seminars for specific majors facilitate classroom discussion on specialized subjects, while general education workshops and enrichment activities foster the flow of knowledge and friendship between students across disciplines.